As landscaping demand soars, many wholesale nurseries are reporting 'an unprecedented demand' for plants, shrubs, and trees. Getting the right materials on time can be challenging even during a regular year due to dynamic shifts in demand, and extreme weather. Is there a way for landscaping businesses to avoid last-minute changes to the job schedule and other sourcing challenges? GoMaterials asked three wholesale nursery leaders to share their insights about landscaping plant sourcing.
Read the full post below to get the best sourcing and procurement advice for your landscaping business.
Invest in Wholesale Nursery Relationships and Be Proactive
Everde Growers, Texas / Florida / West Coast
Nicholas Staddon, the official Spokesperson for Everde Growers, explained how the current plant sourcing challenges originated with the housing bubble crash more than a decade ago. "Up until the 2008 recession, we were absolutely cranking. Very few people saw the recession coming, and the demand for plants died very quickly. Over the next three to five years a terrific number of nurseries went out of business, and the industry lost around 40% of the workforce. Proactive and nimble enterprises such as Everde Growers, who rebranded in December 2020 after TreeTown USA purchased Village Nurseries and Hines Growers, could find a foothold because they knew their customers well and had a diversified market. Moving on to 2015-16, the market started to come back, but people were still cautious about what they were planting. The last thing they wanted was to have an oversupply on hand," Nicholas says.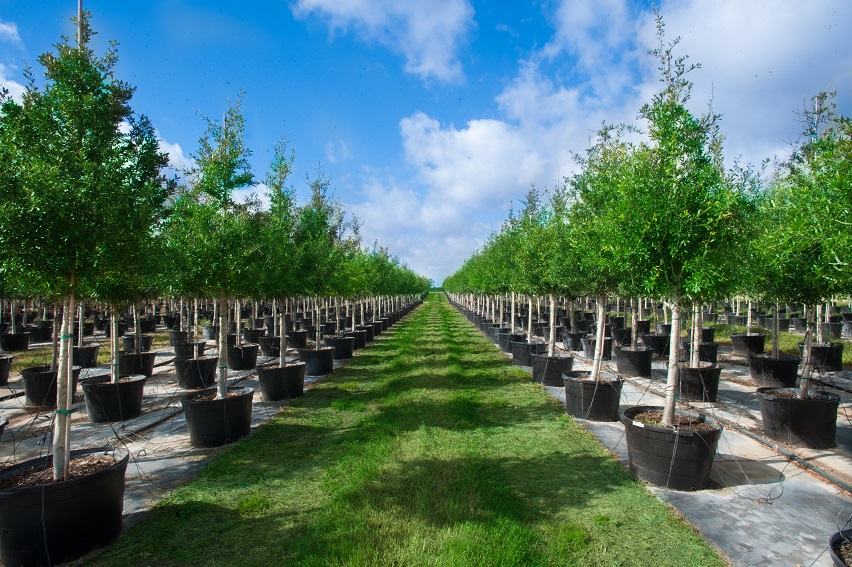 Picture from Everde Growers
Once the pandemic hit, Everde Growers experienced a dramatic increase over time in costs and a slowdown on the supply lines of fertilizers, containers, etc. that never quite recovered after the recession. "The best thing we can do is spend time with our suppliers," says Nicholas. "Developing a relationship with them and understanding their business is mutually beneficial and can help us find workarounds to these challenges."
Plant Sourcing Advice from Everde Growers
"It's crucial to know your supplier and understand their business. To thrive in this market, landscape contractors need to find their niche. It's also equally important to keep learning more about your industry, your customers, and to form meaningful relationships with local associations such as CLSA, TNLA, or FNGLA.
Planning is also important. If you're constantly reacting to each situation that arises, it's not going to help anyone. I recommend spending 10-20% of your time planning your business."
Communication is Important as Plant Availability Changes by the Hour
Barton Nursery, New York/ New Jersey  
Joseph Bartonek from Barton Nursery highlighted the communication gap between landscape contractors and wholesale nursery managers. When asked about the biggest hurdle faced by wholesale nursery leaders, Joseph pointed at the shortages and substitution delays as the crucial factors.
"The biggest hurdle right now, it's the shortages. You need to send a truck to more than one supplier to fulfill someone's original order or even for the substitutions. I would say that's the most difficult thing right now because it's time-consuming on both ends. Also, by the time customers get back to us on substitution approvals, that plant material might not be available because it changes hourly now," says Joseph.
Barton Nurseries is currently trying to delegate other time-consuming tasks to cope with the demand, such as adding more team members to exclusively collect pictures of plant materials.
Plant Sourcing Advice from Barton Nursery
"Allow the plant sourcing specialists and brokers to locate plant material and be flexible in substituting. It's important to consider the timelines. Depending on the size of the order, it can take 10 days to source the material because it takes 3 days just for the order to be pulled and processed. When you expect your materials right away, it screws up production for the week for everyone else."
Set Realistic Expectations and Consider Seasonality
Uxbridge Nurseries, Ontario
When GoMaterials spoke with the team at Uxbridge Nurseries about plant sourcing hurdles, they were quick to point out the gap between landscapers' expectations and the reality of wholesale nursery supply chain.
"We find the biggest hurdle to be the expectation of plant material to be readily available all year round. We have about a 2-2.5-month window to get thousands of trees dug and put into the yard to start fulfilling orders. The supply chain for trees goes back about 5-10 years on a lot of crops and sometimes even more. So, to predict the trends of material that architects, homeowners, garden centers, cities and landscapers need or want can be quite difficult," they explain.
The Uxbrige Nurseries team also spoke about the difficulty of managing factors out of their control. For example, bugs (emerald ash borer, gypsy moth), and weather emergencies (hail/wind/droughts/heat waves etc.). That's why they think it's important for the industry to come together.
"Even though the industry does a good job at communicating, there is always room for improvement, and we could step into each other's shoes to try and better understand one another," they added.
Plant Sourcing Tip from Uxbridge Nurseries
"The more time and the more information you communicate with the nursery the better. For example, potential job start date? what kind of job it is? The duration of the job? etc. Basically, time and communication are key in getting what you want. At the very least, we are able to forewarn you that material may be unavailable earlier and suggest a substitute that you can pass along to your architect or customer to approve."
***
Have you faced any plant shortages or other sourcing challenges this year? You can download our 2021 Plant Shortage Report to explore the causes of shortages and develop strategies to counter them.
The post Plant Sourcing Advice from Three Wholesale Nursery Leaders appeared first on GoMaterials.
Did you miss our previous article…
https://blackstonelandscapingdesign.com/?p=517