Maintaining a high win rate for landscaping contracts and building a team at the same time can can be challenging. GoMaterials has consistently reached our sales objectives, and since I get passionate about this topic, I wanted to share some insights with the community. Here are a few often neglected aspects when it comes to winning more landscaping contracts.
1.   Discover the 'Person' Behind 'Landscaping Customers' 
The beginning of your sales journey should be all about listening and understanding the other person. The term for this is "discovery". We overcomplicate the experience when we think of people in the frame of landscaping customers or leads. In sales, we deal with human beings who are experiencing a problem that they need help solving.
Ask impactful questions and then sit and listen. This is a conversation, not an interrogation. Spend 70% listening and 30% talking — that should be your ratio. Who is the person behind the role I'm talking to? How can I see if, at the core of it, what we're offering is helpful? Empathize and relate to the individual.
2.   Find the Right Time to Discuss Landscaping Contracts

Landscaping is a busy industry. It's all about the right place, the right time, and the right person. Gartner research claims that it takes on an average 18 calls to reach the right person across the industries. Calls at the right time would perhaps be even lower.
When you finally get through to someone, you have to make every second count. For this reason, communication skills are looped into organization skills. If you're organized, you're prepared with what you're going to say.
There's some luck involved in getting someone at the right place at the right time, but moving them down the sales process is based on skill and preparedness. You might get through to someone and hear a drill in the background. Right person, right place, wrong time? No worries, just reposition yourself – "Hey sounds like it's not a good time!" You can also crack a joke to relate and set a time to call back. The more you invest in building rapport, the more success you will get in finding the right time and place sooner.
3.   Learn from Your Landscaping Sales Pipeline
Your sales pipeline is a great learning tool that can eventually lead to more growth in revenue.
Understand the Landscaping Customer Lifecycle
When you're growing your sales in landscaping, you need to be aware of the lifecycle of everyone in your pipeline. The pipeline usually looks something like this: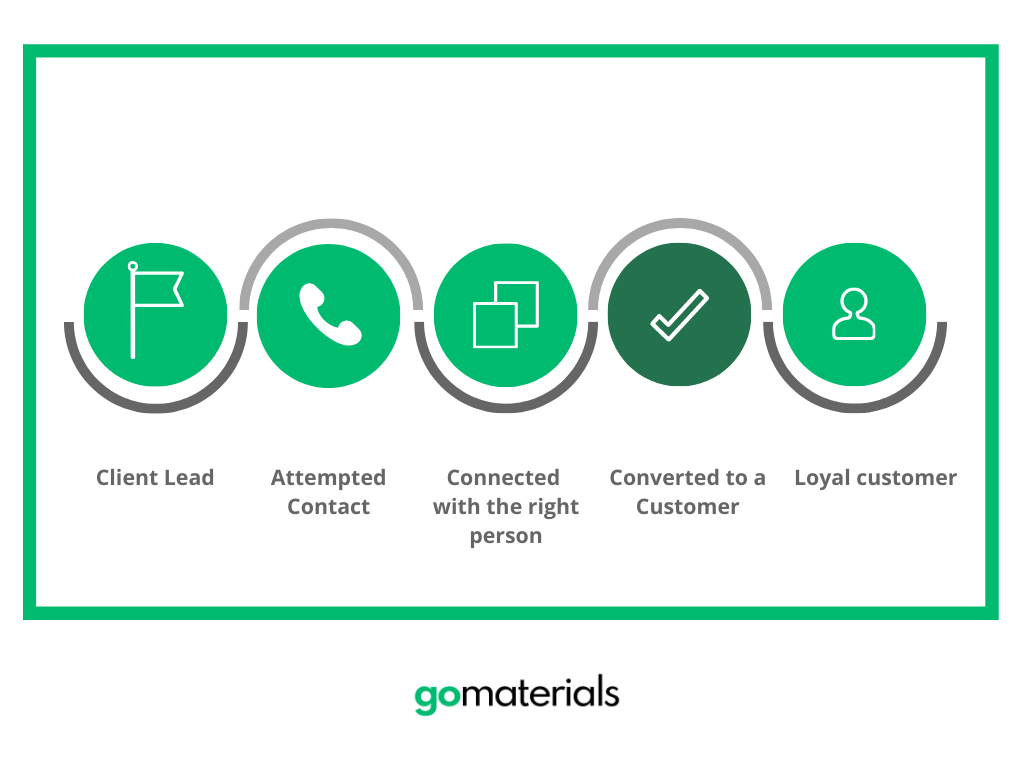 Use CRM and Landscape Management Tools to Gather Data
Let's face it. At some point in your growth path, you may need to start using a CRM (Customer Relationship Management technology). There are so many free or inexpensive versions available. All of your sales data gets captured there and then you can look back and analyze it.
For example, you may find that you have a 20% call connection rate between 8:00 am and 9:00 am. And this then drops to 8% after 9:30 am. Since your decision-maker is more likely to be at the right place at the right time in this window, your sales team can organize their calls beforehand so that they can use every minute wisely. CRMs are invaluable to gather this information.
4.   Avoid the Planning Trap to Win More Landscaping Bids

The best landscaping sales workflow goes from preparation to communication, then to relentless execution. It's great to plan your trip, but if you don't get in the car and drive, you're not going anywhere. With these strategies, your sales team can prioritize better and avoid the planning trap:
Customer Focus
Maybe you're a small landscaping company and you're so busy you can't find new customers. The 80/20 rule is your golden ticket: 80% of your business comes from 20% of your customers. Prioritize your top ten accounts because getting a customer to buy again is drastically easier than getting a new client to buy for the first time.
 Focus on the type of Landscaping Contracts

Oftentimes, maintenance contracts are labor-intensive and lower-margin services. In contrast, installation and construction contracts are often of higher margin and more profitable. You can focus on one type of contract over another. You can also use inexpensive maintenance contracts to then attract sales for your installation contracts.
Gradual Expansion
Smaller landscaping businesses want to say yes to everything — we've been there. It might be counterintuitive but from our experience, it's best to focus on things you do great and gradually add to your offerings. Expanding slowly builds momentum since your sales team will have greater confidence in the work your operations team and install crews are performing.
Sales-Cycle Refinement
The sales-cycle calculation is the time a customer signs a landscaping contract, minus the time you first made contact with this customer. Reducing your sales cycle is always a good long-term landscaping sales strategy. For example, if it took your sales team five months to close a deal in the previous sales period, you can aim to bring it down to three months in the next one.
The content you use to follow up with potential clients is a huge key in shortening the sales cycle. Marketing materials used should build trust and credibility in your business.
Also, let's remember that sometimes things are completely out of our control. Landscaping is often the last piece of the construction project puzzle. If there are delays in construction, irrigation, etc, your sales cycle will be lengthened, but the core strategy should always be to reduce the time lag it takes to close a contract.
Navigating the Red Tape for City Landscaping Contracts
City or government landscaping contracts are high-value projects that can often seem complicated due to the long-drawn process. However, your success rate for these still comes down to the relationship you build. Yes, this person works for the city or the government, but they're aware that the red tape is unpleasant. Ask yourself how you can make it so that you're easy to work with. It becomes even more important for you to be on time, to meet deadlines and price points, and to properly submit all necessary documents.
5.   Building an All-Star Landscaping Sales Crew
Create Structures
Our sales team structure is two-fold: we have the hunters and the farmers. The hunters (Sales Development Reps) focus on going out and finding new business. Our farmers (Retention and Account Managers) cultivate and grow relationships with existing landscaping clients.
Creating a clear structure within your team eliminates the grey zone. This way there's accountability on what each department is or is not responsible for. Make sure there's a process and a flow of information while giving autonomy and ownership to your team.
A structure can be geographically based, by state or province, north or south, east or west, etc. It can also be customer-based, as in the Hunter/Farmer example, or by account size, whatever works for your landscaping business.
Nurture the Culture
Sales team culture can directly affect your bottom line, a good reason to not let it be an afterthought. The best thing you can do for your team culture is to turn your landscaping sales team into co-trainers or co-coaches. This way winning strategies and domain knowledge can get passed down more efficiently. It also lets the whole team be a part in each other's success and share their winning recipes more freely.
However, it's also equally important to remember that your team will always retain an aggressive approach to closing sales because salespeople are naturally competitive. And they should be allowed to chase their targets. If you build a culture that balances competition with sharing, it will eliminate any toxic sales habits.
To sum things up, being organized enhances your communication, which strengthens your understanding of the other person, which then improves how you execute your selling processes. You can get lost in data and methodology, but don't lose sight that selling is a meeting of two human beings trying to solve an issue with what they have available. If you try to be everything to everyone, you may not end up going very far.
***
What are your biggest sales challenges this year? Tweet to @gomaterials to get ideas from our Co-founder to solve them.
The post Five Sales Insights to Win Landscaping Contracts by GoMaterials CRO appeared first on GoMaterials.
Did you miss our previous article…
https://blackstonelandscapingdesign.com/?p=465